We're making it a reality with our largest watch screen yet, custom exercise routines and sleep tracking — finished with a timeless aesthetic.

Start your everyday wellness journey with a refined classic
More screen. Thinner bezel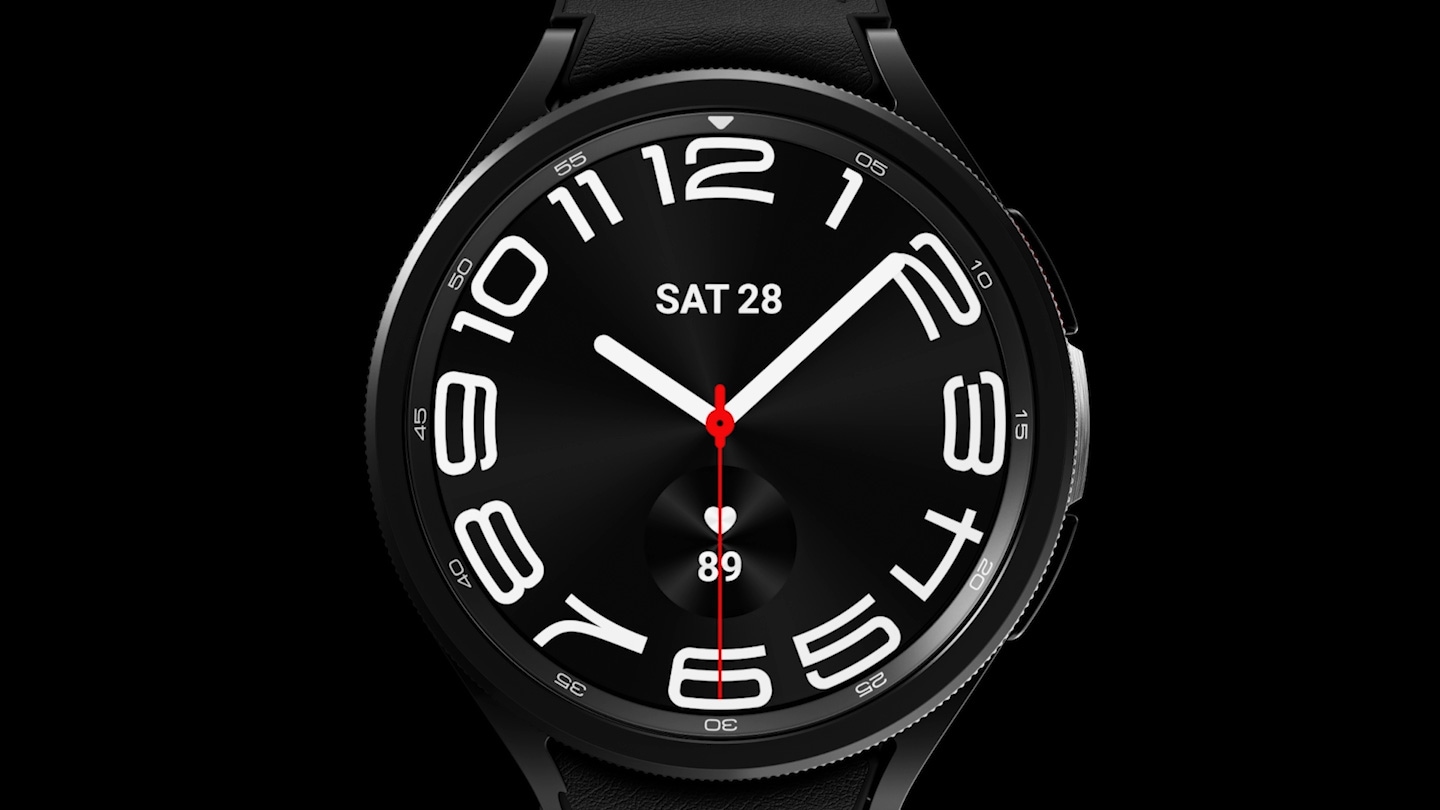 More screen. Thinner bezel
Experience enhanced visuals and clear motion graphics on a 20% larger display. The 15% thinner bezel and increased screen size create an aesthetically perfect display-to-bezel ratio — and extra space for every tap and swipe.
Sapphire Crystal glass.
A clear difference in durability
Designed to withstand daily wear and tear. The display of Galaxy Watch6 Classic is expertly crafted with Sapphire Crystal glass to protect its timeless beauty. And the finishing has IP68 and 5ATM ratings, so you can keep your watch on through all your adventures.
Take the improved
rotating bezel for a spin
Embrace the time-defying style of a classic. Inspired by the iconic design of diving watches, the slim spinning bezel on Galaxy Watch6 Classic brings history into the future with more fluid, responsive scrolling for intuitive interaction with the screen. And the circular frame is crafted with sleek stainless steel to elevate every glance at the clock.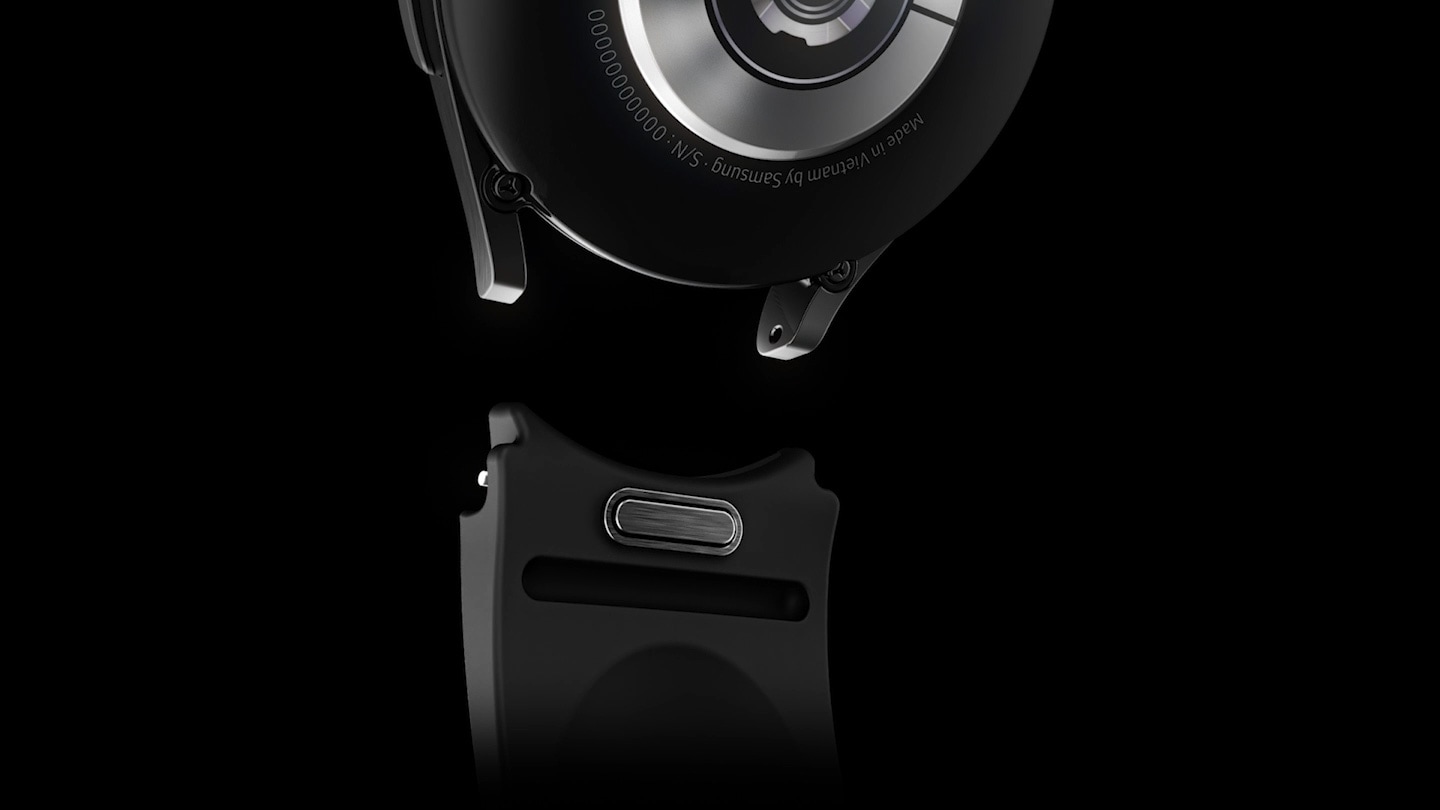 Go from boardroom to
weight room in a snap
Swapping bands is as seamless as pressing the quick release button. A convenient guide lets you install the new band with ease — just press gently until you hear a click. Transition from work to workout or back again without breaking a sweat.

Don't fret even when it's wet
Defy the dangers of dust
More processing power to do more with every minute
Get more done in less time with Galaxy Watch6 Classic's upgraded processor. The 18% faster CPU speed and quick app launch time keep you productive and efficient throughout the day.
Charge up in record time
With one full charge, the watch lasts up to 40 hours. Fast charge the watch to 45% in just 30 minutes and you're all set to explore the great outdoors or enjoy a well-deserved break in bed.
UP TO 

45

 

% 

CHARGED IN 

30

 

min
Hands-on
 

shooting, hands-free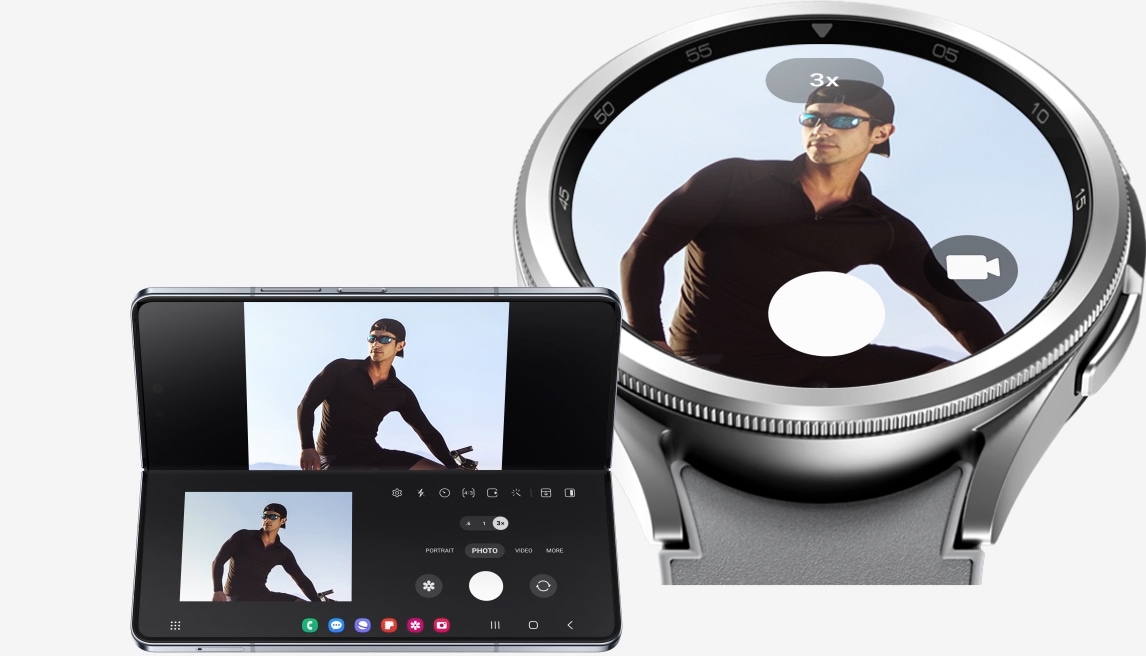 On the left is Galaxy Z Fold5 on Flex mode. On the right is Galaxy Watch6 Classic displaying the same screen as Galaxy Z Fold5 , illustrating the Camera Controller feature.
Pair your watch with Galaxy Z Fold5 to capture the healthy you up close or from a distance. Galaxy Z Fold5's Flex mode and Camera Controller let you easily switch between photo and video mode, or zoom in and out, all from the comfort of your wrist. Then tap the shutter button on your watch to take a pic.
Begin with your watch,
 

follow up on your phone

Team up with your Galaxy Z Fold5 to monitor your progress seamlessly. Use your Galaxy Watch6 Classic track your workouts and health stats. Then sync your watch with the Samsung Health app to graph your activities on a larger screen, including your daily steps, workout intensity, heart rate and more.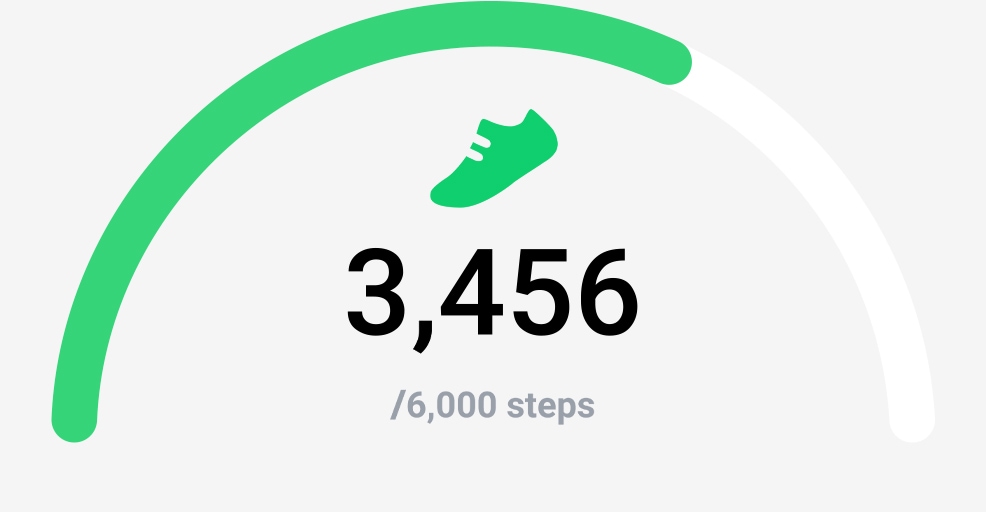 Daily steps icon and progress bar can be seen. The number of steps go up from 824 to 3,456 and the progress bar advances accordingly. On the right is the Galaxy Z Fold5 displaying the Samsung Health app with the detailed data.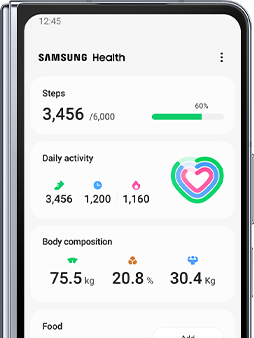 International Roaming keeps your world within reach
Galaxy Watch6 Classic can be seen on the wrist of a person wearing a blazer, displaying the Settings screen with the Mobile data and Data roaming feature enabled.
Whether exploring a new city, hiking in the mountains or lounging on a beach, international roaming keeps you connected to loved ones, or help you call for reservations and even access important information.
Find your way around with GPS
Navigate the world without constantly pulling out your phone. Simply glance at your wrist for GPS navigation on Google Maps, so you can find your way to the gallery opening, or track down a more challenging cycling path.
Samsung Wallet is always on hand
Access Samsung Wallet right from your Galaxy Watch6 Classic. Make payments, ride public transit, scan membership cards and more. You can even store non-payment items like digital IDs, tickets and keys, to lighten your load and empty out your pockets.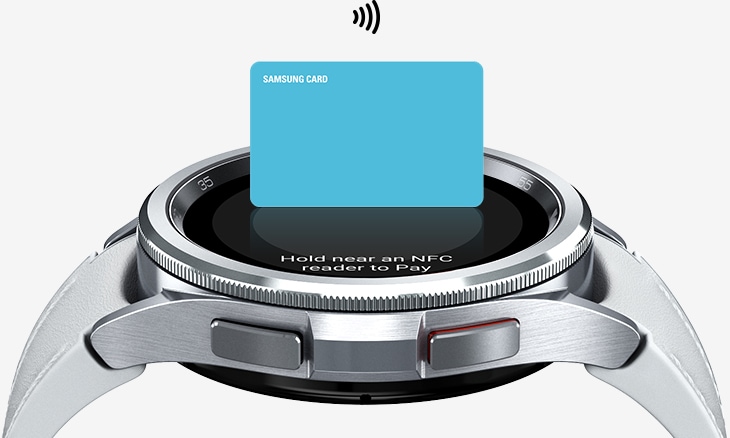 Wake up to our most advanced sleep tracking
Get detailed sleep tracking with improved analysis and deeper insights to enhance the quality of your sleep. And now you can access Sleep Coaching on your Galaxy Watch6 Classic to build better sleeping habits. Get a good night's sleep when wearing your watch to bed by switching to the Fabric Band. Be sure to put your watch on sleep mode to change the PPG sensor's green LED to invisible infrared LED, dim the display brightness and mute notifications.
Information on the time spent in each sleep stage can be seen:
Awake 35m, REM 1h 30m, Light 4h 30m, Deep 55m.
The information is also displayed as a graph.
Fabric Band
A heart monitoring package that watches over you
The built-in PPG sensor periodically measures heart rate and heart rhythm while you wear your Galaxy Watch6 Classic, and will alert you if your heart rate is too high or too low. It will also send you a notification if it detects an irregular heart rhythm, along with a prompt to take an ECG to examine your heart rhythm in more detail.
GUI of ECG being measured can be seen, with the measure time changing from 26 to 31 seconds and the bpm changing between 72 and 77. Under the numbers is a moving graph illustrating the heartbeat.
Keep a watchful eye on your blood pressure
Stay informed and stay healthy. Allow your watch to track your daily blood pressure so you can focus on making sound choices for a balanced lifestyle.
Clock your goals with BIA
Keep an eye on your body composition with detailed Bioelectrical Impedance Analysis (BIA). Set your target weight, body fat, muscle mass and more, then set up an optimised program to help you achieve your health and wellness goals.
Safety features for your peace of mind
Fall detection should sense if you've suffered a fall and sends an Emergency SOS if you need help. When help arrives, you can access your medical info from the lock screen with a touch of a button to aid emergency services.
Meet your Personalised HR Zone
Your watch can assess your fitness capacity to determine your personal HR Zone. If there's a specific HR zone you want to hit, you can set the goal manually. As you workout you'll be alerted when you enter your target HR Zone, whether that's fat burning, cardio or high-intensity training. Move out of the zone, and it'll alert you too — letting you adjust your effort accordingly.
5 different curved lines that form a U-shape can be seen. Each is in different shade of colour from yellow to red. A white dot placed in the middle of each line moves along the lines as a same-coloured heart and heart rate number indicating the Personalised HR Zone changes. GUI of Personalised HR Zone can be seen, with the function button enabled and 5 HR Zones. With the increasing heart rate from 90 to 114, 125, 158 and 174, the selected zone changes from 1 to 5, respectively.
Start a healthy competition amongst friends and family
Create challenges and let your competitive side shine. Invite your workout buddies, and encourage each other to go the extra mile. Celebrate progress, achievements and personal bests together.
Exercise tracking - Chart your growth to peak performance
Gain valuable insights into your progress and achievements with Galaxy Watch6 Classic. Track over 90 different workouts, or you can even create your own custom workout, to log your daily activity and monitor your progress. You can activate auto detect for select workouts like running, walking, and now, cycling to go straight from warm up mode to beast mode.
Specifications
NFC
NFC
Accelerometer,Barometer,Bioelectrical Impedance Analysis Sensor,Electrical Heart Sensor,Gyro Sensor,Geomagnetic Sensor,Hall Sensor,Infrared Temperature Sensor,Light Sensor,Optical Heart Rate Sensor
Full specifications
Audio and Video
Audio Playing Format 

MP3, M4A, 3GA, AAC, OGG, OGA, WAV, AMR, AWB
Connectivity
Location Technology 

GPS,Glonass,Beidou,Galileo

 
Wi-Fi 

802.11 a/b/g/n 2.4+5GHz

 NFC 

Yes

 Bluetooth Version 

Bluetooth v5.3

Bluetooth Profiles

A2DP,AVRCP,HFP,HSP
OS
Wear OS Powered by Samsung
Display
Technology (Main Display) 

Super AMOLED

 

Size (Main Display) 

1.5" (37.3mm)

 

Resolution (Main Display) 

480 x 480

 
Color Depth (Main Display)

16M
Processor

Storage/Memory
Memory (GB) 

2




 

Storage (GB) 

16

 

ROM Size (MB) 

16 MB

 
Available Storage (GB) 

7.1
Sensors
Accelerometer,Barometer,Bioelectrical Impedance Analysis Sensor,Electrical Heart Sensor,Gyro Sensor,Geomagnetic Sensor,Hall Sensor,Infrared Temperature Sensor,Light Sensor,Optical Heart Rate Sensor
Physical specification
Dimension (HxWxD)

46.5 x 46.5 x 10.9 mm

 
Battery
Battery Capacity (mAh, Typical) 

425

 

Removable 

No

 

Usage Time (AOD Off) 

Up to 40 Hours

 
Usage Time (AOD On) 

Up to 30 Hours