SWEAT & WEATHER RESISTANT
Built to last

Designed to resist moisture from sweat and weather, Bose Sport Earbuds go through rigorous quality testing for durability to ensure they'll stay in top shape, just like you. They're also rated IPX4, which means the electronics inside each earbud are protected against splashing water in case you get caught in the rain on a run.
CLEAR CALLS. 
Keep talking. 
Keep moving.

When you get a phone call while wearing Bose Sport Earbuds, instead of interrupting your workout, simply double-tap the right earbud to answer or press and hold to reject. If you answer, you'll hear the call clearly in both ears. Meanwhile, thanks to the beamforming microphone array that separates your voice from surrounding noise, the caller will hear you clearly, too.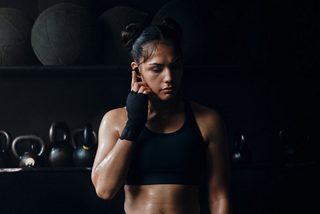 Simple Touch Controls.
Functionality at your fingertips
Instead of buttons, Bose Sport Earbuds feature a capacitive touch interface. That means the outer surface of each earbud works like a touchpad. On the right earbud, swipe up and down for volume control, double-tap to play or pause music and to answer calls. And on the left earbud, double-tap to engage a Shortcut function of your choice like checking your battery level (which you can set up in the Bose Music app).
TRUE WIRELESS. No wires. No stopping you.
As true wireless Bluetooth® earbuds, Bose Sport Earbuds offer complete freedom of movement. As long as you're within 30 ft (9 m) of your device, you'll hear whatever it's playing. And with a custom-designed antenna hidden on the outside of each earbud, you'll stay connected.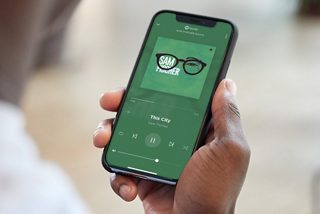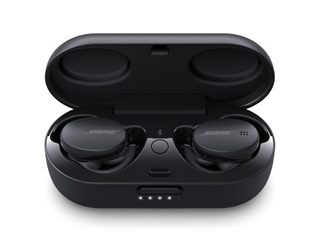 They won't quit before you do
Bose Sport Earbuds provide up to five hours of battery life per charge. They're charged by placing them in the included charging case. If the case is charged, it will automatically charge the earbuds. When its fully charged, the case can provide two full charges for up to 10 more hours of use. And if your battery runs out when you're on the go, you can do a 15-minute quick charge for up to two hours of playback time
Settings, updates, and more.
Bose Sport Earbuds connect to the free Bose Music app, which lets you name your earbuds, set the controls the way you like them, check your battery life, manage your Bluetooth connections, and more. It's also how you get software updates with new features we're working on. Be sure to download it so you don't miss out.